Subsea External Pipeline and Riser Inspection System
ARTEMIS is an ROV-deployed subsea NDT inspection system that uses
Acoustic Resonance Technology (ART)
or
Subsea Pulsed Eddy Current Testing Array (SPECTA)
to inspect subsea pipelines, flowlines and rigid/flexible risers with diameters ranging from 152-856 mm (6-34 in). ART is the only high-resolution inspection technology that penetrates and inspects through attenuative coatings greater than 100 mm (4 in), eliminating the need for coating removal, which improves inspection efficiency.
ARTEMIS enables a complete 360-degree coverage around the pipe with an axial inspection length of 700 mm (27 in) in a fraction of the time alternative technologies need while requiring significantly less pipeline excavation. This typically cuts inspection costs by half while providing a highly accurate inspection of unpiggable pipelines, flowlines and risers.
Being able to inspect through paint, coatings and soft marine growth with high accuracy of wall loss measurement of +/-0.2 mm, and by eliminating radioactive sources, ARTEMIS is the preferred inspection system for many major operators.
ARTEMIS has been extensively used in life extension programs and for subsea pipelines, flowlines, risers, and jumper inspections worldwide.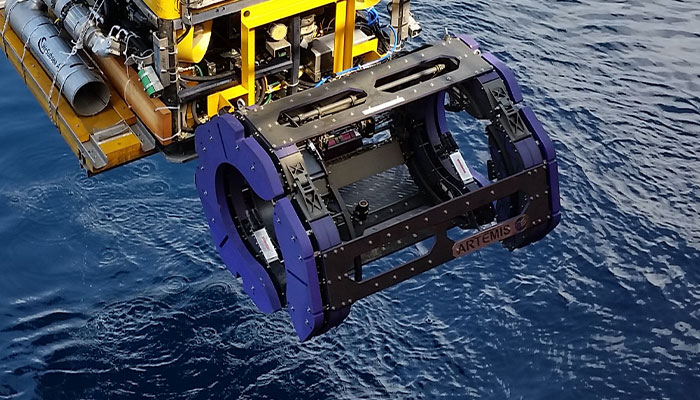 High-resolution scanning at 1 x 1 mm (0.04 x 0.04 in).
Penetrate thick subsea

attenuative

coatings exceeding 100 mm (4 in).
Quantitative wall thickness measurement.
Highly accurate depth sizing of +/- 0.2 mm.
Detects the presence of mediums in the annulus of flexible risers.
Seamlessly integrates with commonly used ROVs.
Exceptionally resilient to soft marine growth.
Minimal dredging; only a foot of clearance for full 360-degree coverage.
Capable of

ultra-deepwater

inspection, down to -3000 m (10,000 ft).
Subsea Applications
Pipelines
Flexible risers and rigid risers
Flowlines
Hydrate detection and sizing
Unpiggable flowlines
Hot-tapping locations
Inspection Capabilities
Corrosion mapping
Wall thickness measurements
Ovality and dents
Medium detection within annulus (wet/dry)
Cracking and corrosion of flexibles armour wires
ILI verification
"Each local area data collection was completed 5 times quicker compared with the Computed Tomography (CT) tool used in the Gulf of Mexico (GoM), which was the only external local inspection technology available for deepwater production systems at that time."
Shell Project Manager
Data-Rich Inspection Information
ART Wall Thickness Measurement Data
TSC Subsea's proprietary ART has gained significant recognition within the subsea inspection field. Its exceptional capabilities for coating penetration and high accuracy in conducting through-wall inspections of pressure-holding equipment from the external surface make ART an excellent choice for the inspection of pipelines, flowlines, risers and flexible risers.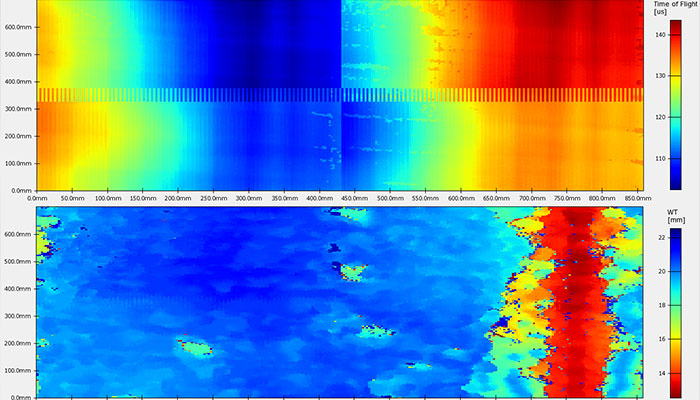 TSC Subsea's exclusive ROV-deployed SPECTA technology is specifically designed to detect flaws and corrosion in ferrous materials hidden under marine growth or coatings including concrete and polypropylene. Measure remaining wall thickness without surface preparation in offshore applications such as risers, jetty piles, caissons, and underwater piping systems.
"Up to ~100 times more inspection data points per station were collected and analyzed compared with the CT. Radiography based inspection tool used in GoM (14k vs 1300k data points per line)"
Shell Project Manager
External Subsea Inspection of Flexible Risers
Flooded annulus due to an external sheath breach has proven to be one of the top failure modes of flexible riser systems. It has also been found that CO2 permeation from produced fluids can accelerate armor wire corrosion, leading to flexible riser failure.
4" of Coating no Match for ART and ARTEMIS
The purpose of the inspection was to measure effective steel thickness through 4 inches of pipeline insulations made of Glass syntactic polypropylene and injection moulded polypropylene. Scanning operations were carried out at 2000 meters water depth.
Inspecting Concrete Weighed Pipes with SPECTA
TSC Subsea was contracted by a client to carry out wall thickness assessment of Condensate Export Pipeline (CEP) and Pipeline End Manifold (PLEM) without removing the protective concrete weight coat (CWC).