Advanced Subsea Robotic Inspection Services
TSC Subsea combines patented and proprietary NDT inspection technologies with award-winning robotic systems to solve the most challenging subsea inspections – from the routine to the seemingly impossible.
Through our exclusive underwater Non-Destructive Testing (NDT) technologies and remote robotic scanners, we empower our customers to perform integrity assessments on their subsea assets including pipelines, flexible/rigid risers, offshore structures and vessels while minimising costs, reducing environmental impact, and enhancing personnel safety.
TSC Subsea distinguishes itself by providing a wide array of NDT techniques and subsea robotic inspection systems deployable via remotely operated vehicles (ROVs) or divers. This versatility enables us to carefully choose and utilise the most suitable NDT methods that align with the unique needs of our customers.
We are committed to delivering superior quality and reliable inspection data on time, every time. We assure our customers of accurate subsea asset integrity assessments, enabling them to make well-informed decisions and instilling confidence in their operations.
"With TSC Subsea we found a reliable partner with whom we were able to complete the relevant offshore work in a safe manner, within the scheduled time frame and within the planned budget."
Ocean Breeze Energy GmbH (OBE) Project Manager
Subsea Inspection Capabilities
With a track record of over ten years in resolving subsea inspection challenges across various water depths, ranging from the splash zone to ultra-deepwater, we possess the knowledge and experience in assessing the following types of damage mechanisms and typical issues associated with vital underwater assets:
Validation of In-Line Inspection (ILI) surveys.
Evaluation of internal pipeline corrosion and erosion.
Detection and measurement of weld defects.
Inspection of welds in subsea structures.
Corrosion Under Insulation (CUI) assessment.
Measurement of pipeline geometry, including ovality and dents.
Flange face corrosion inspection.
Wall thickness measurement for elbow extrados, duplex, and steel.
Detection and measurement of hydrates.
Evaluation of grout integrity.
Identification of flooded annulus in flexible risers.
Flooded Member Detection (FMD).
FPSOs hull surveys.
"Each local area data collection was completed 5 times quicker compared with the Computed Tomography (CT) tool used in Gulf of Mexico (GoM) which was the only external local inspection technology available for deepwater production systems at that time."
Shell Project Manager
Our comprehensive portfolio encompasses a range of NDT inspection technologies. These advanced techniques seamlessly integrate with a variety of subsea robotic scanners, all of which can be deployed via remotely operated vehicles (ROVs) or divers.
What technologies are best suited to your subsea inspection application?
Underwater Robotic Deployment
With TSC Subsea's remote inspection technology, clients can efficiently and cost-effectively monitor their subsea assets and infrastructure. Our field-proven robotic delivery systems ensure high-quality NDT inspection data, enabling clients to make informed operational decisions based on reliable and repeatable inspection results. This approach minimises unscheduled stoppages, incidents, and environmental leaks, ensuring smoother and more sustainable operations.
Grout integrity verification of subsea structures is now possible thanks to TSC Subsea's innovative technology and the development of its unique solution, the ART GUIDE scanner.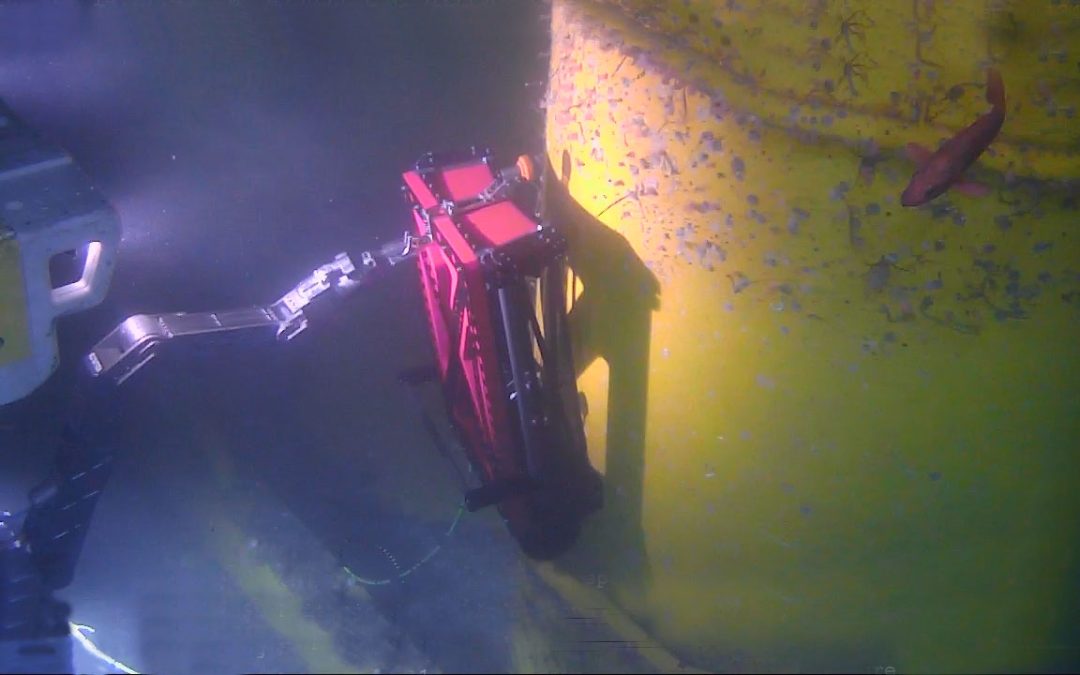 Grout integrity verification of subsea structures is now possible thanks to TSC Subsea's innovative technology and the development of its unique solution, the ART GUIDE scanner.
The Challenge TSC Subsea received a request from a major operator, Equinor AS, to evaluate the feasibility of inspecting subsea risers coated with thermally sprayed aluminium (TSA). Specifically, the inspection focused on assessing the fillet weld surrounding an anode...
The Challenge TSC Subsea was contracted by a client to carry out wall thickness assessment of Condensate Export Pipeline (CEP) and Pipeline End Manifold (PLEM) without removing the protective concrete weight coat (CWC). The assessment was required as the client...
TSC Subsea were challenged to investigate sand erosion concerns on subsea structure piping off the coast of Western Australia. The inspection campaign covered multiple assets including Pipeline End Manifold (PLEM), tie in spool and subsea cooling skid in the Halyard Field and a PLEM in the East Spar Field.
Get in touch
Want more information about TSC Subsea's unique, cost-effective solutions? Just fill out the form with your questions or information requests, and we'll promptly get in touch with you.
Bergen, Norway, 19th September 2023 – We are thrilled to announce the launch of ART GUIDE (Acoustic Resonance Technology Grout Underwater Inspection Delivery). This innovative solution is set to revolutionise the assessment of grouted connections on offshore structures.
TSC Subsea is thrilled to announce its strategic partnership with SubseaRobotix, a leading name in the field of subsea deployments, to deliver an innovative, client-focused, and solution-based approach to subsea engineering and structural integrity in the Nigerian market.
This strategic collaboration brings together TSC Subsea's proprietary inspection technology and Rototech's cutting-edge automated robotic carriers. The joint efforts of both companies are directed towards offering subsea asset owners across the globe an exceptional...